12 Qs with Steven Sachs, SWS Risk Management Advisor, LLC

6 min read
May 23, 2022
12 Questions with Steven Sachs
Welcome to 12 Questions, a Q&A series where we pose the same set of 12 questions to intriguing folks at the intersection of insurance, risk management, commercial real estate, and digital innovation.
Suggest someone we should feature next.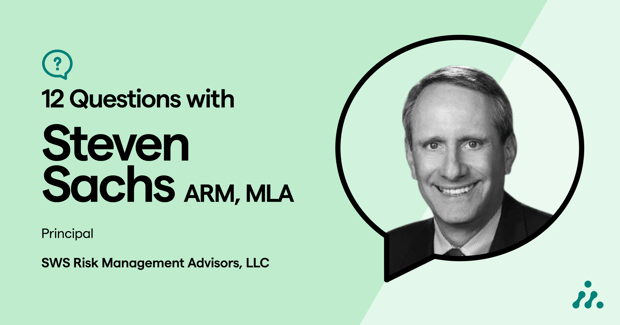 We chatted with Steven W. Sachs, MLA, ARM, Principal at SWS Risk Management Advisors LLC, Advisor at Archipelago, Advisory Board Member at Radical Combustion Technologies, and Advisory Board Member at BidWiser.
1. What is the most interesting idea you've encountered in your world lately?
It is an old idea that has been frequently reinforced as I became an advisor to several companies. "Active Listening" is a skill that provides a return on investment in business and personal life, which is well worth the discipline of learning to execute it.
For me, I write the word "Netsil" at the top of my note page ("listen" spelled backwards). I write this so as to not insult very smart trading partners or friends who might be insulted to think that I have to learn to listen. If I have prepared for a meeting, I find that I am much smarter when I suspend judgment and just listen.
2. Where do you think no one is looking right now?
I think that there are often blind spots when we become too focused on the endpoint number, be it NOI or FFO. For example, in real estate, the Management by Objective (MBO) is critical, and often the MBO in development and CapEx does not align with the long-term financial objectives of the ongoing operations.
For example, "on time" and "under budget" are important, but not if the decision negatively impacts long-term costs in maintenance and operations. Better data that is available to the C-Suite and allows them to coordinate with their operations teams to assess the impact on expenses relative to rent may accrue to NOI or FFO results by more profitable and efficient decisions.
3. If you had a magic wand, what would you change about your industry?
I would like to see MBOs for risk managers aligned more closely with their impact on corporate objectives and results than year-over-year costs. I always believe that driving costs are critical, but aligning with other specific company-wide corporate objectives will help Risk Managers to spend more time focused on the "horizon" and on the changes needed for their company to both achieve success and minimize expense. That is where the C-Suite is usually focused, and the alignment would contribute to providing optimum long-term results.
Corporate C-Suite members spend considerable time focused on the horizon for both opportunities and threats; risk managers also need to be engaged in these areas.
4. What is the most rewarding part of what you do?
The success of the people who worked for me and the quality of the people with whom I have had the privilege to work with are timeless rewards.
I also value the ability in my present advisory roles to both meet young entrants to our community and to listen to them, their ideas, goals, and aspirations – as well as to share timeless experiences, stories, and lessons that have contributed to my successes.
5. What do you envision the next 12 months will bring?
More change, including new threats to the global economy – whether they may be caused by wars or a continuation of "pandemic" disruptions. At the same time, I envision a return to a new form of normalcy, framed by the experiences of COVID. The disruption of personal relationships and contacts is abhorrent to human behavior, and any return to new normalcy will be very positive and welcomed. At the same time, we can and will work smarter due to the experiences that we have endured.
6. What is your favorite building?
The World Trade Center in NYC. Perhaps, not the most iconic, but the most symbolic of our ability to overcome and rebuild. September 11th is a day that I choose not to forget. We lost friends and family and parts of ourselves.
The company I worked for as their Risk Manager at the time owned the South Street Seaport, and we drove on the Friday after the event to meet with our team and inspect the property. We were the lone vehicle traveling through the Holland Tunnel with clearance from NYCPD. We had to go through numerous checkpoints to get to the Seaport. Later, our Corporate Security Director went up to view the site. This was similar to my decision after Hurricane Andrew, when I declined the opportunity to view parts of Andrew's devastation when I was part of the team dealing with damage in Miami at Bayside and Kendall Town and Country.
Then, after 9/11, I just did not want to personally be a voyeur into the devastation that caused such a loss of life and property. As an employee and Director of the Real Estate, Hotel, and Gaming Practice in North America for WTW, I often traveled to the World Financial Center, where our North American Headquarters was located. I never lost my reverence for the site as I watched it being reborn from the ashes.
7. Please dispel a myth or misconception about your work?
That it was all about the numbers and that my focus was only on the metrics. Many people quote me as saying, "If you cannot measure it, don't do it!". It became a phrase that I heard at work and as a Board member. What I learned in my career was that while numbers were often the starting point for learning and identifying opportunities, developing the process, points of measurement, accountability, and frequency of the measure were what really drove improvement and success. As importantly, the real success was driven by the buy-in of those closest to the issues, accompanied by the communication of thanks and gentle prodding as might be required.
8. What are the tools, apps, or gadgets that you just can't live without?
My iPhone, as it connects me to everything, and is my IT Help Desk. Since the 1990s, I have driven most of my business success on the back of technology without being tech-savvy. I would often communicate to my helper friends that I am your guarantee of full-time employment!
9. What's your biggest pleasant surprise related to remote work?
How easy it has been to accomplish meetings, especially when there is a "reasonable" number of attendees. There is a challenge of "new" people, and I believe that it is important to have some "icebreaking" comments/brief bio when people are new to each other as well as a clear understanding of meeting objectives and a summary of what was accomplished. That is not much different than what I believe is the professional process for a face-to-face meeting.
10. What's your favorite productivity tip for staying motivated and getting work done?
I am a Stephen Covey fanatic, and I always believe in his time management principles – which have you placing the rocks in the jar rather than the pebbles. He would pose that most people spend over 80% of their time doing the "urgent" and 15% doing the important. If we focus our planning on the important, we achieve more objectives that make a difference to both our company and our personal growth, and we feel more in control of our lives. The last thing is to reward yourself for the progress/achievement of doing the "right" things.
11. What or who do you read/watch to keep informed?
I read the Wall Street Journal and The Economist, which provide some divergence of perspectives. I am a "young" 75, and, especially during COVID, I have been disciplined in reaching out to my friends from both the industry, college, and life to discuss business trends, the country, the world, and politics. The interesting and positive fact is that we have varying political and economic perspectives, but we all have the willingness to both listen and articulate our points of view and why. We are able to come away with new knowledge and perspective, even if our core views or values have not materially changed. This may be somewhat out of step with the norm, but it still gives me hope.
12. Please nominate two people who should answer this next.
Andy Tilmont, Head of Real Estate – Americas at Aon
Jeffrey Bray, Senior Vice President at Prologis