By now, we know that "AI" is not just Hollywood's interpretation of big computers, the uncanny valley, and science fiction. The reality is that it can hugely impact our everyday lives—in ways we might not realize. Unlike in Hollywood, AI works with us to make our lives easier and save us time and resources in very practical ways.
Archipelago AI does just that for commercial property data and brings a level of efficiency to an otherwise difficult, manual process. In the most basic terms, Archipelago AI brings automation and standardization, saves time, and eliminates friction related to commercial property risk. Most importantly, Archipelago AI improves data quality to such a degree that it has proven invaluable to the insurance renewal process and helps you navigate big financial decisions in other business areas as well.
Our tech is built to be as resilient as your buildings
Traditional SOVs and building documents are the primary sources of original data you can upload on the Archipelago platform. Assisted by Archipelago AI, our team of structural engineers transform this data into a Smarter SOVTM. This process includes identifying, curating, and validating the data and filling in gaps to improve its accuracy.

You are now on your way to a comprehensive characterization of your portfolio!

Data quality improvements will include:
Geo-location and hazard mapping based on precise geographic coordinates
Construction and occupancy
Secondary modifiers, including those linked to earthquake, wind, and flood
Attritional loss data pertaining to non-catastrophic events
Property stewardship data covering building maintenance, upgrades, and other mitigation measures
You'll be able to monitor these improvements in the Readiness Report.

As your portfolio evolves, your Smarter SOVTM will stay up-to-date and remain relevant. Similarly, as individual properties evolve, with new roofs or updated fire suppression systems, these changes will be reflected on the platform. You can always be assured that you will be sharing the most current and accurate data with stakeholders, brokers, and underwriters.
We speak building
Layman's terms may describe a building by its address, the number of floors, and general construction, but our building linguists take it a step further by using precise terms to highlight resiliency. We know the data tells a different story, and as some may say, it's all in the details.

We support hundreds of unique property data attributes, instead of the traditional dozens on a typical SOV. To go beyond the ordinary, we group attributes into twelve categories to ensure the most complete representation of your properties.

The images below illustrate the data quality gains with a Smarter SOVTM. The first image provides a very basic understanding of the building, leaving it wide open to individual interpretation and assumptions. The second image tells a complete and comprehensive story backed with accurate details and historical facts, eliminating ambiguity and building trust.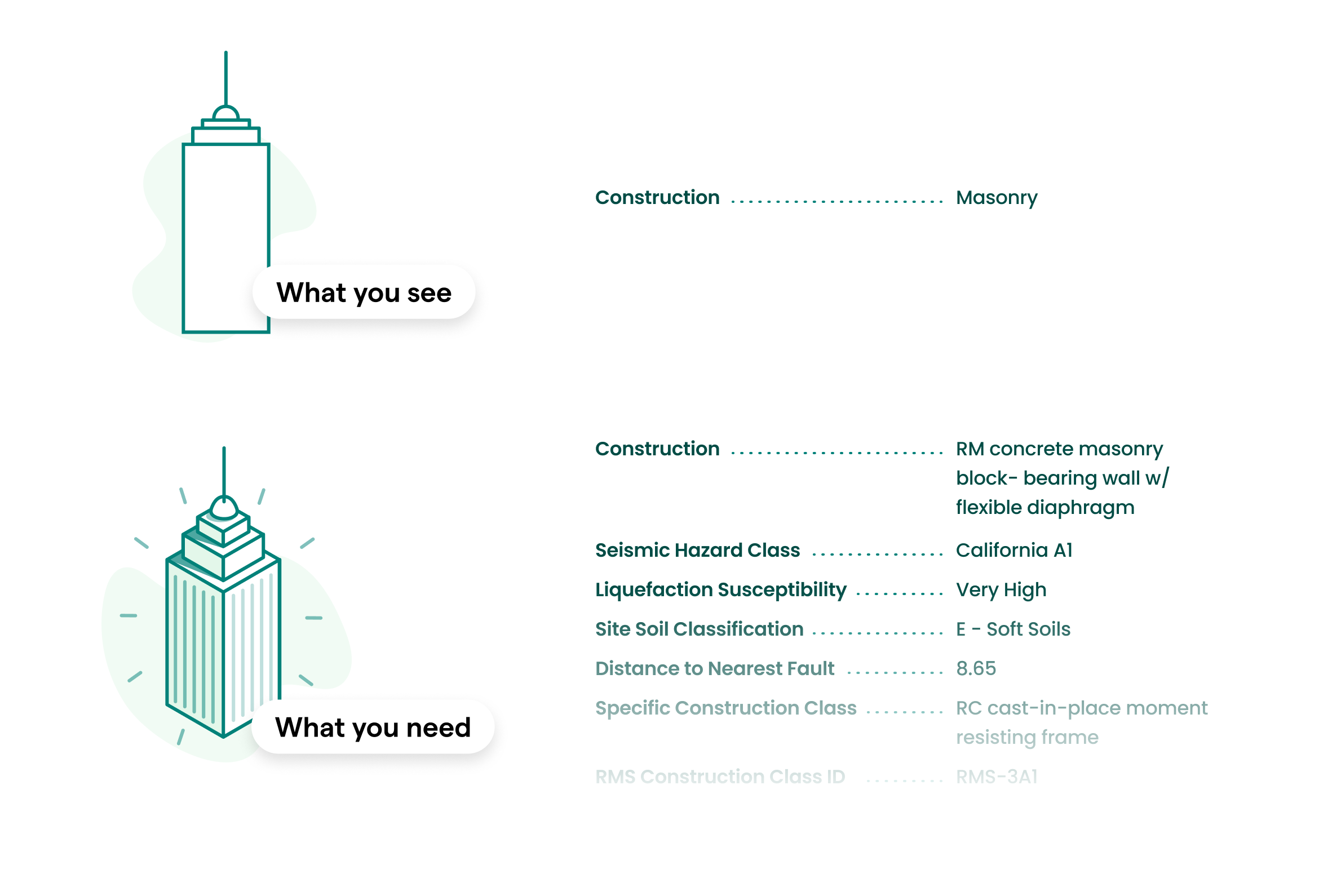 Our commitment
At Archipelago, you'll work directly with a dedicated, highly knowledgeable account manager who will help you every step of the way. Your onboarding will be personalized to perfectly suit your industry, business processes, company size, use cases and requirements, and more. Throughout the process, your account manager will work with you to discover ways to use your improved data across your business for insurance renewals and beyond.

Let us know if you'd like to see how your property data can be improved. Reach out to us here. Talk to you soon!